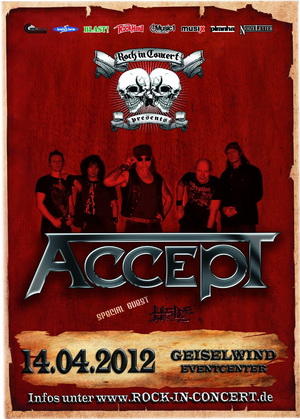 Accept kommen im Frühjahr 2012 für nur wenige Tourtermine nach Deutschland und haben hier ihr neues Album im Gepäck! Geiselwind war auf der Tour 2011 das absolute Tourhightlight, 2012 kommen Accept daher wieder mit großer Vorfreude nach Geiselwind und spielen dort den einzigesten Samstag – Termin der Tour in Deutschland! Tickets hierzu gibts an allen öffentlichen VVK-Stellen!
ACCEPT sind mit Sicherheit die internationale Überraschung der letzten 24 Monate im Heavy Metal Business. Mit "Blood Of The Nations" haben sich ACCEPT im Jahr 2010 nach langjähriger Pause zurückgemeldet und die Medien, die Fans und die Konzertveranstalter überfallmäßig in ihren Bann gezogen. Mit über zwölf Album-Chartsplatzierungen weltweit (Deutschland #4, europaweit #11, weltweit #35) und mehr als 50 "Album of the Year" -Auszeichungen internationaler Medienpartner ist "Blood Of The Nations" das erfolgreichste ACCEPT Album in der langen Band-Geschichte. ACCEPT tourten in den letzten 24 Monaten mehrfach um den Erdball und bestritten in diesem unglaublichen Konzert-Marathon über 180 Shows in Europa, den USA, Süd- und Lateinamerika, sowie Asien.
ACCEPT haben sich in den letzten zwei Jahren den Ruf, einer der besten Live-Acts der Metal und Hardrockszene zu sein, erspielt und über eine Millionen Konzertbesucher weltweit bei ihren Shows begeistert. ACCEPT- Fans dürfen auch 2012 mit einer ausgefeilten, powergeladenen Show rechnen, denn das Motto der Band heißt: no pain – no gain – no mercy – ……they take no prisoners!
For me, an emotional and one of my greatest concerts !
Many thanks to Accept
Accept :
Many thanks to Hell
Hell :