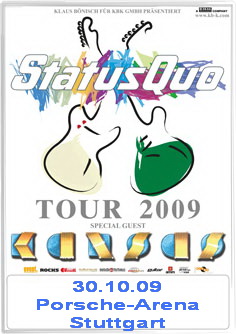 Status Quo begeistern mit ihren unzähligen Hits inzwischen mehrere Generationen. Ihre Klassiker wie Whatever You Want oder In the Army now machten Status Quo weltberühmt. Die Band steht für dynamischen Heavy-Rock, atemlose Power-Rhythmik und sie profilierten sich in ihrer 40jährigen Bandgeschichte als mitreißende Live Band.
Neben den Original-Mitgliedern Francis Rossi (Gitarre/Gesang) und Rick Parfitt (Gitarre/Gesang) werden John "Rhino" Edwards (Bass, Gesang) und Matt Letley (Schlagzeug) sowie Andrew Bown (Keyboards) auf der Bühne rocken.
Für mehrere Konzerte in Deutschland gibt es mit Kansas einen besonderen Special Guest der britischen Hit-Institution. Kansas stammt aus den USA und hat mit Songs wie Dust In The Wind, Carry On Wayward Son oder Point Of Know Return ebenfalls mehrere Rock-Klassiker im Programm.
Bei diesem Paket zweier für fulminante Live-Shows bekannter Bands kommen die Fans von Boogie- und Klassik-Rock gleichermaßen auf ihre Kosten.
Status Quo :
Kansas :